Intelligent Graphic OLED
OLED displays are vibrant, easy to read, and power conscious.  Control of these intelligent OLED modules has been simplified to a set of commands delivered via RS232, I2C and TTL. Meant to save time and money, we have worked to ensure that the tedious timing and special conditions typical of display controllers have been eliminated from our interface to help get your project to market faster.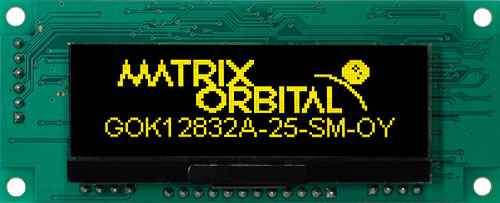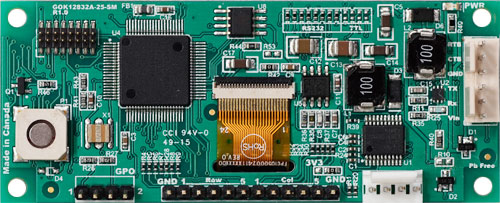 Colours

OB OLED Blue on Black

OG OLED Green on Black

OR OLED Red on Black

OW OLED White on Black

OL OLED Yellow on Black
Voltage/Temperature

E  Extended Temperature (-20C to 70C Operation)

LV  Low Voltage Power Supply (3.3V)

VS  Super Wide Voltage Power Supply (5V-15V)
Interfaces

I2C  Inter-integrated circuit protocol uses clock and data lines to communicate short distances at slow speeds from a master to up to 128 addressable slave devices. A display is a slave device.

RS232  Recommended standard 232, a common serial protocol. Logic levels can be as high as +/-30V, a high level is negative, a low is positive.

TTL  Transistor-transistor logic applied to serial protocol. Low level is 0V while high logic is 5V.
Features

Dallas One-Wire  One Wire interface for connecting devices using Dallas Semiconductor protocol, such as the DS18S20 temperature probe.


GPO  General Purpose Outputs for switching external circuitry and devices.

Keypad  Matrix style keypad input.

Piezo  Piezo Electric buzzer with variable pitch and duration.